Rise and Shine
24"x30"x1.5"
Acrylic on canvas
$1500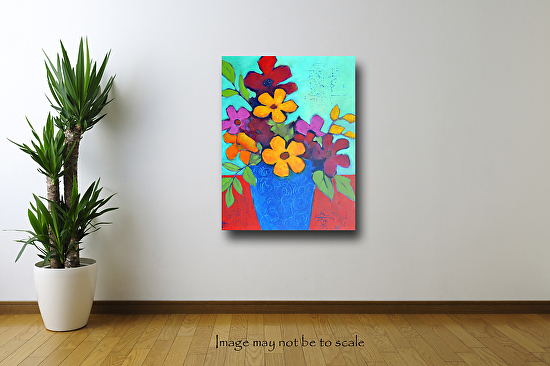 Brighten up your day with this colorful abstracted floral painting!
"Rise and Shine" measures 24"x30". This textured abstract painting on canvas is stretched on 1.5" deep bars. The sides are painted a shimmery black Micaceous Iron Oxide. The painting is signed on the side, dated and signed on the back.
It is wired and ready to hang as soon as it arrives.
Framing is not necessary. A protective gloss varnish has been applied to protect the painting from dust and harmful UV rays.
A Certificate of Authenticity is included
Free Priority shipping within the US
Click
here
to order prints and other items
Click here to subscribe to my monthly art newsletter!
*****
Abstract Painting Workshop
Fort Cooper State Park
Inverness, Florida
October 10 - 12, 2016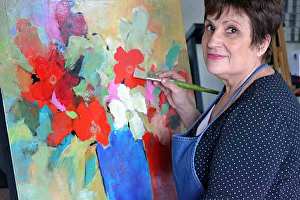 Join me for this exciting approach to painting large, bold abstract paintings!
In this fun 3 day workshop, you will explore how to use composition and color to achieve masterfully powerful paintings. You will experiment with new painting techniques as you learn to trust your intuition and discover your own artistic voice.
I will demonstrate my own painting techniques and talk about my thinking process as I paint. As you begin to work on your own paintings, I will be available to answer questions, make suggestions and push you out of your comfort level to a whole new area of discovery and creativity.
For this workshop, I have chosen one of the most beautiful and serene locations in Citrus county. Ft. Cooper State Park is located just a couple of miles away from lovely downtown Inverness, with its many shops and restaurants. There is a very nice and very reasonably priced hotel just a few minutes from the park.
*****
Have you been thinking about selling your art online, but don't know where to start?
I have been successfully showing and selling my artwork online since 2002. There is an enormous amount of information about online marketing available, but it can be daunting to sort through it all. There are also expensive mentoring programs that can help you get started. But, the fact is that the information is readily available for anyone willing to do the research and actually implement what they learn.

I have put together a simple CD/PDF file that will help guide you on your path to selling your artwork on the internet. It is simply written and includes hyperlinks to the sites that I have found most helpful.

PDF file via email - $20
filomena booth, abstract painting, abstract painting workshops, abstract floral art, modern art paintings