Apricot Morn
24"x24"x1.5"
Acrylic on canvas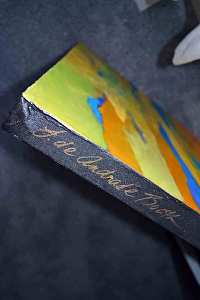 Apricot Morn is inspired by the magnificent skies of Florida. This bold, colorful seascape measures 24" x 24". The canvas is stretched on 1.5" deep wood bars. The sides are painted in a shimmery black Micaceous Iron Oxide. The painting is wired and ready to hang, framing is not needed. It is signed on the side, dated and signed on the back.
A signed Certificate of Authenticity is included.
Free priority shipping withing the US
Prints and other items are now available!
Click here to subscribe to my monthly art newsletter!
*****
filomena booth, abstract painting, abstract painting workshops, modern art paintings, seascape, coastal, floral, interior design, home decor art, art for interior designers