Rise and Shine
24"x30"x1.5"
Acrylic on canvas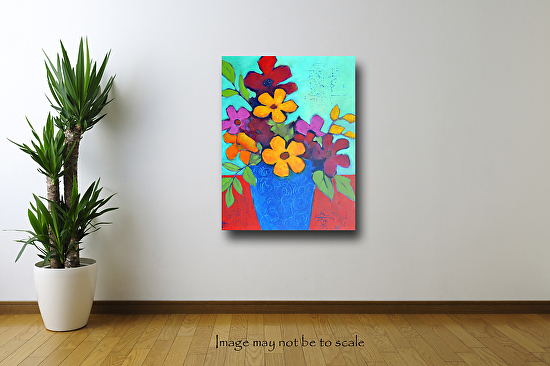 Brighten up your day with this colorful abstracted floral painting!
"Rise and Shine" measures 24"x30". This textured abstract painting on canvas is stretched on 1.5" deep bars. The sides are painted a shimmery black Micaceous Iron Oxide. The painting is signed on the side, dated and signed on the back.
It is wired and ready to hang as soon as it arrives.
Framing is not necessary. A protective gloss varnish has been applied to protect the painting from dust and harmful UV rays.
A Certificate of Authenticity is included
Free Priority shipping within the US
Click
here
to order prints and other items
Click here to subscribe to my monthly art newsletter!
Go Big Go Bold
abstract painting workshop in
Learn how you can sell your art online!
I've been successfully marketing my art online since 2002. I put together a very easy to follow guide showing how I market my work using the internet. In this very simple pdf (or cd disk), you will discover how you too can take your art to the next level by showing your work to the world. I include hyperlinks to several online art gallery sites, information on setting up your website, how to pack your art for shipping, photographing your art, using social media, pricing, record keeping and most important of all, getting paid!
Get started today!
Send your request for the pdf file or cd disk to
filomena booth, abstract painting, abstract painting workshops, abstract floral art, modern art paintings