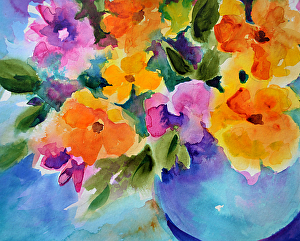 Nature's Melody
art size - 12"x16"
Matted 20"x16"
Acrylic watercolor
SOLD
Visit my website to see more of my original paintings
*****
Go Big Go Bold
Abstract Painting Workshop
October 10 - 12, 2016
Join me for this exciting approach to painting large, bold abstract paintings!
In this fun 3 day workshop, you will explore how to use composition and color to achieve masterfully powerful paintings. You will experiment with new painting techniques as you learn to trust your intuition and discover your own artistic voice.
filomena booth art, abstract painting, abstract painting workshop, go big go bold, modern art, abstract florals, floral painting, sell art online, how to paint, coastal art, wine art